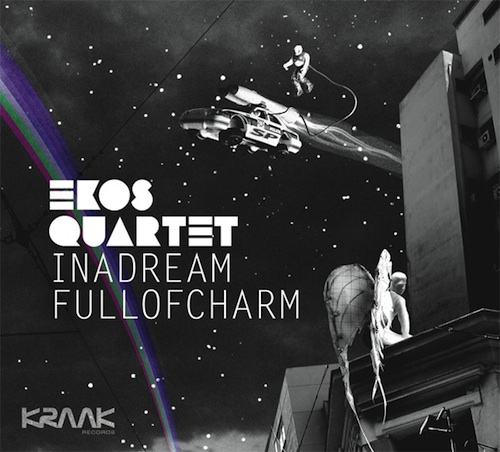 It was when ForTune gave some music experimentations on classical and hip-hop sounds to The Ant, and he immediately proposed him to form "something". After working together on music and lyrics during 2004, Stelx joined them as a guitarist in 2005. Not much later than that, the three of them found Eskimint, who had been working on trip-hop vocals by herself. They formed Ekos Quartet in November 2005, and recorded their first song, "Fortune's lake", in January 2006 and they performed live for the first time in December 06. During 2007, the band gave many live concerts and kept producing new tracks. This opportunity gave them the courage and the inspiration to start expanding their musical horizons, mixing downbeat, electronica, funk, hip-hop, jazz breaks, post rock, classical samples and ambient sounds, all based on a tripping background and mood. Their first release was the song "Free with you" in "Concealed Truth" compilation by Andrianos Papadeas (June 07). They also released 4 tracks in the multi-ep part of the compilation "City Campers" a bit later. In 2008, they have appeared as a quintet in some concerts, after the addition of George PapaG (bass), while Mandragora has been helping the band on their live sound. They also completed the recordings of 13 songs in "Silicon" studio. S-fx and Ekos have mixed their debut album, "In a dream full of charm", while Bob Katz did the mastering. Ekos Quartet had been working on this album until late 2008 (about to be released in 2009). Their aim is to achieve evolution, improvisation, experimentation and originality through their musical journey, during which they can express their emotions and talk about a world that can be more beautiful and charming, rather than controllable.

This album is more like a fairy tale, contains stories that take place in the city or closer to nature, stories that wonder and are not scared to cry, stories that talk about vanity or hope, stories that dream of the rainbow behind every pain...



BUY THIS RELEASE IN CD DIGIPACK & DIGITAL




TRACK LIST:
1. Can't stop thinking of that valley
2. An angel's secret hideaway
3. Some echoes for goodbye
4. Destroyer
5. Heading to whatever
6. Some melancholic jazz
7. Love forsaken
8. Philosophers stoned and space policemen
9. Fortune's Lake
10. Chocolate
11. I(why)
12. Black & white frames
13. Speak out loud




Ekos Quartet - In a dream full of charm will be available on 25 January 2010, for sale in CD DIGIPACK and digital download at Kraak Store and all mp3 retailers across the internet.